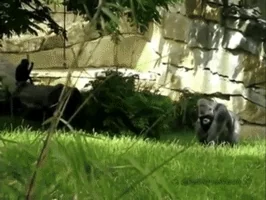 Life is a big obnoxious bully of a Gorilla, throwing shit at the poor workers who are only trying to make a buck.
But I don't blame the Gorilla at all.
Or  is it that we have become the annoying crowd that watch your every move and yell and geer because your locked up and we aren't, throwing our own kind of crap?? Maybe…
Nice intro eh?  Sorry folks, life has not been a Fun house lately, and I thought I'd write a bit to maybe ease my stress and anxiety but hopefully I won't scare you all away.
I'm not too sure where I left off last time, but just for shits and giggles I'll give a run down… My hubby was diagnosed with bladder cancer about a year and half ago, had surgery, then one year check up it was back again, had surgery again last fall, then went in to see the doctor about a pain in his hip, turned out his main artery to his groin was plugged, he was in surgery a month later, cut open from sternum to groin getting an Arterial-Femoral bypass, he was in the hospital for over a week, ended up having micro-blood clots settle in a couple toes, thought he was going to lose them, but thankfully he didn't.
He was off work eight weeks so I formed my own little business and started making Savoury meat pies and selling them on our local Facebook site. I was doing well, until someone sent me all the rules and regs about cooking food at home and how your not suppose too, lol.. oh well, I made about eighty pies the first month, it was fun, but I don't want to risk getting fined. So T's Pot Pies has formally turned off her ovens…but the back door is open. lol..
So this last surgery hubby had kind of screwed up his three month Cancer check, but he had it just last week and low and behold, there is another unknown spot that has shown up in another area of his bladder.  So…another F'n surgery in a couple months.  My god, my dear hubby, I understand why he's so grumbly and he's doing as well as anyone can I guess with all this shit being flung at him.  I'll tell you one thing, my hair is really going grey along with what hair he has left also.
One good thing about all this, I got to go to Victoria, BC,stay with my niece and her small family.  Boy do I love that girl.  I was able to snap a few photos on our way home on one of the trips down there, I hope you enjoy them.  I hopefully can get out and take a few more photos soon, I miss being one with nature. I also need new glasses because I can't see shit, even if it was thrown at me. LOL
So, I'll try to not be a stranger, keep the zookeeper's happy and try to stay positive and strong for my hubby. {it's hard some days}. In the meantime, Keep Smile'n 😀😀😁😁